Perfect Family Day Out in Cambridge – Ride the Miniature Trains
Leamington Domain is a beautiful reserve area in the middle of Leamington (a suburb of Cambridge, on the opposite side of the river to the main town center). Here, you will find the Cambridge miniature train tracks.
Just like many community endeavours, this track was constructed and is maintained and operated by a dedicated group of volunteers – the Cambridge Model Engineering Society.
If you're looking for the perfect family day out while staying in Cambridge, then look no further – the Leamington Domain features not only miniature trains, but a full suite of entertainment options for all ages. 
In the following paragraphs, we take a closer look at what's on offer here.
Table of contents:
Reviews
Here are some of our favourite reviews that people have posted online about their experiences with the miniature trains:
"Our boys loved visiting the trains when they were younger. This is such an asset to the community run by incredibly committed and passionate volunteers." 
"What a great asset to the Cambridge community."
"We had our sons first birthday here on Sunday especially for the trains. Was fantastic! Kids loved it! We had family over from Aussie who were very jealous they don't have something like this nearby. Made having a birthday party so simple and kept kids occupied all day! Highly recommended!"
"Love it, we had such a great time and one of the children commented "This was the best day of my life"! Lots of happy children who enjoyed themselves so much! Many thanks."
"Kids loved it. The people running it is absolutely lovely. They go out of their way to be helpful. Thank you very much!" 
What you'll find here
If this miniature train track were to be graded based on the facilities, then we would give it a 10/10. Here, you will find a 200-300m long track that loops around the Leamington Domain, rolls past the playground and gives passengers the chance to enjoy the surroundings from an entirely different vantage point.
During open days, visitors have a range of locomotives to choose from – petrol, steam and electric-driven are all on offer, providing a glimpse into the transportation methods of yesteryear in a fun, safe and family friendly environment.
The recently completed Lion's Den Tunnel traverses through an enclosed pathway, giving visitors a good idea of what it's like to be on an operational train. 
In August last year, a wheelchair accessible carriage was added to the collection of vehicles to make it possible for everyone to get involved – regardless of their physical capabilities.
Entertainment for all ages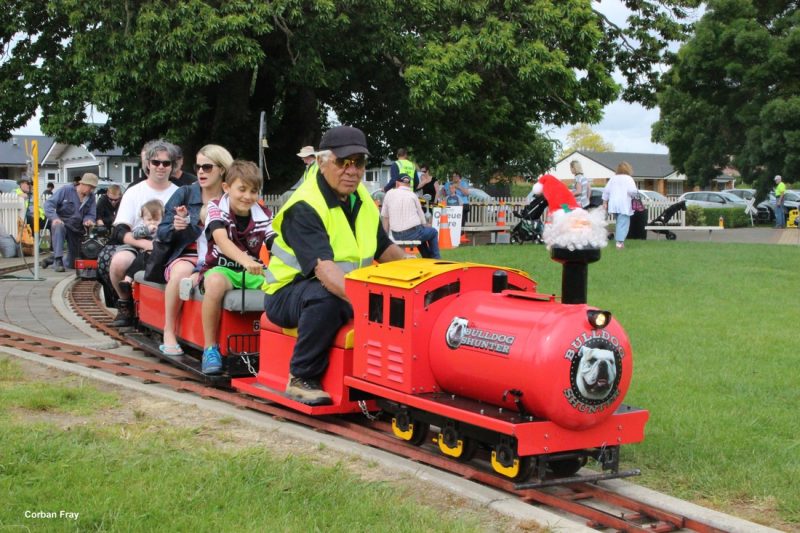 Aside from the miniature trains, Leamington Domain has a range of other facilities that are perfect for all ages.
"There's a good playground (several slides, swings, obstacle course including monkey bars), although it's near the main road with no fencing so kids with a tendency to run off, will need to be carefully monitored." – Source
Older kids will enjoy the roller skating rink, which can be used both during times of sunshine and rain as it's covered by a full sized roof. Next to the roller skating rink, you will find a set of netball courts that are great for practising hoops and a large open grass field to kick a ball around, throw a frisbee or walk the dog.
For a great family outing, why not bring a basket of food and have a picnic under one of the many shaded areas? With so much so do here, it's no wonder why families are drawn to Leamington Domain every weekend!
Prices and opening hours
The miniature train park is open to the public from 10am – 2pm every Sunday during the summer months. In the winter, rides operate on the 1st and 3rd Sunday of each month.
As it is an outdoor activity run entirely by volunteers, the trains do not operate in poor weather conditions. For live updates on whether the Cambridge miniature trains will be operating this weekend, keep an eye on their Facebook page.
Private functions:
"We are available for private bookings for all sorts of groups, ranging from 30 people all the way to 200 and more! Schools, Kindergartens, Birthdays, and more!"
The miniature trains are available for private groups on Wednesdays from 10am – 1pm at a cost of $150 for 1 train or $200 for 2 trains, which includes unlimited rides during the 3 hour period.
To book a private function, it's best to give the Cambridge Model Engineering Society at least 2 weeks notice to ensure that they have people available to help.
History
"Our club first started in Rotorua of New Zealand. It was a magnificent 5″ and 7 1/4″ track winding through a lot of bush life and over streams."
Due to a lease agreement that wasn't renewed, the Rotorua club eventually closed. Eager to keep the community going, two of the former members approached the Waipa District Council in Cambridge and asked to lease the land around the Leamington Domain to build a miniature railway. They were granted permission to make it happen, on the condition that they gave back to the community in some way.
Construction began in late 2011, and the track was officially opened on the 1st of December, 2012. Recent additions to the track include the Lion's Den Tunnel and the wheelchair friendly carriage for disabled people to get amongst the fun!
Ride cars for the disabled
A local volunteer, Allan Edwards noticed that quite a few disabled people regularly visited and enjoyed watching the trains roll by, but had no way of actively getting involved.
"I used to always see people in wheelchairs or mobility scooters on the side just watching. That prompted me to allow those people to enjoy what we enjoy."
Driven by his inspiration to help, Allan called upon local businesses to contribute supplies and resources to make it happen. Welders, upholsterers, powder coaters and other tradespeople all did their part to bring Allan's dream to life.
On Sunday 19th August, 2018, the wheelchair-friendly ride car was opened to the public.
"The ride car features a ramp at the back, allowing wheelchairs or mobility scooters no wider than 630mm to wheel onto a platform."
Join the community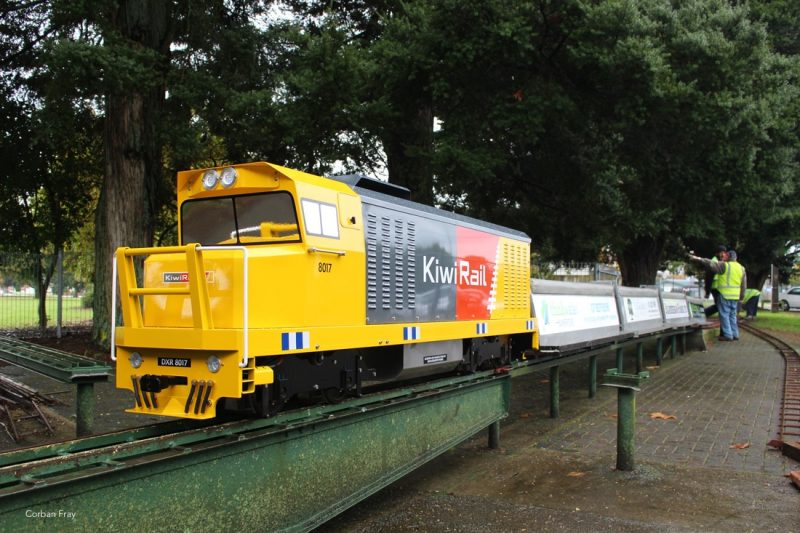 The Cambridge Model Engineering Society welcomes volunteers of all ages and skill levels to take part in their events – regardless of how much you know about engineering. The public days every Sunday are fully managed by a committed team of volunteers.
Membership is free, and you get a range of exciting perks such as riding the trains, getting your driving licenses (to eventually take passengers on your own) and have the chance to work on these beautiful machines.
"Many members also take part in the modelling and building aspect of the hobby, with many owning beautiful private engines which requires them to maintain the engine themselves."
If you're interested in joining, click here to contact the crew.
Other nearby attractions
Aside from being a beautiful township, one of the joys of staying in Cambridge is that we are close to everything that the Waikato has to offer. Check out the following guides from our blog for a range of other activities that are within a short driving distance of Cambridge:
Have a memorable stay at Hidden Lake Hotel
Hospitality is more than just friendly service and a place to sleep. It's an experience.
Our luxe hotel, located on the shores of Lake Te Koutu, Cambridge, is an immersive accommodation experience that brings sustainable materials and rustic beauty to tasteful simplicity.
If you're searching for a place to stay that feels like home, then look no further. We built this oasis from the ground up by taking inspiration from nature and blending it with modern creature comforts to provide the ultimate accommodation experience.