Exploring the Blue Spring and Te Waihou Walkway – The Ultimate Guide
***South Waikato District Council has taken a decision to close the Blue Spring / Te Waihou Walkway. The closure will be in effect from 13 November 2023 and we hope to have the Walkway re-opened by this time next year, if not sooner.***
Colours breathe life into our surroundings, and impart depth into our perceptions. If you're looking to experience a beautiful and uniquely Kiwi attraction, then Blue Spring might be just what you're after.
Based roughly 5km out of Putaruru township, the Waihou Walkway and Blue Spring is a freshwater wonderland that exudes bright hues of blue and green, and features a diverse variety of life.
As the name suggests, water in the Waihou River originates from a natural underground aquifer that takes 50-100 years to reach the surface. As it passes through rocks, impurities are filtered out – resulting in an extremely clean body of water.
"Pure natural waters are blue to blue-green in colour because they lack light absorbing constituents and particles. Both particles and light-absorbing matter are efficiently removed during the long settlement time of spring water while in aquifers." 
In other words, the water here is some of the cleanest in the world! The Te Waihou Walkway is a 4.7km long track that takes visitors to Blue Spring, meandering through a range of interesting environments along the way.
"The walk goes through areas of restoration and regeneration of wetland and native plantings, and crosses rolling pastoral land beside the river. Small waterfalls set amongst native bush add to the area's scenic beauty, and trout are plentiful." 
Remember to bring your camera, as the views on a good day are breathtaking!
In this ultimate guide, we take a deep dive into everything you need to know about Blue Spring and the Te Waihou Walkway:
About Blue Spring

Reviews

Swimming in the Blue Spring

The Te Waihou Walkway

Fishing for trout

Where is the Blue Spring and how to get there

Accessing the spring

When is the best time to visit Blue Spring and Te Waihou Walkway?

Make it a day trip!
About Blue Spring
"Te Puna, (the Blue Spring) is a natural taonga (treasure) formed through the special and delicate merger of geology, ecology, freshwater biology and geography, over many hundreds of thousands of years." 
Water in the Waihou River flows from the Mamaku Plateau and reaches the surface at what we call the Blue Spring. Whilst it may seem like the water is bubbling up near the surface, the spring is actually located about 8 metres under the riverbed.
Thanks in part to the abundant flow of pure water, about 70% of New Zealand's bottled water supply comes from here. On average, Blue Spring pumps out 700 litres every second – which is enough to fill a 6 lane, 25m swimming pool in 12 minutes!
As an important source of livelihood and income for the locals, it also supplies about half of Putaruru's water supply.
Until recently, Blue Spring was a hidden piece of paradise that most people didn't know about. However, around 2014, it went viral online and this resulted in droves of visitors flocking here to embrace the natural beauty.
Before it was made famous by the internet, around 10,000 people would come here each year. However, in December 2016 alone, more than 9,000 people visited! This rampant growth has put a strain on the surrounding infrastructure and sparked debate around the best way to manage this natural resource.
The Waihou River played an important role in the travels of the second Māori king, Kīngi Te Wherowhero Tāwhiao. More information about the history of the Waihou River can be found here.
Reviews
Here are a handful of reviews from previous visitors:
"A trip to the Blue Spring is well worth it. The stunningly beautifully clear waters and the vibrant green grasses are really a sight to behold. A short trip off the main highway from Rotorua takes you to this natural beauty. Parking is limited and the walk through the fields to the spring itself is well worth the effort. Stunningly beautiful!" 
"Beautiful place to visit. Highlight of my trip to NZ. Very sad to hear the beauty is being destroyed by rubbish and people swimming. When visiting please respect the environment so that beautiful places like this exist for free!" 
"This must be one of the highlights of our NZ journey. Beautiful clear water and a lovely walk along the bank – the water is so clear and appears so blue – it's breath-taking and so picturesque. Stunning and tranquil – nature at its best. WOW !!!!"
Swimming in the Blue Spring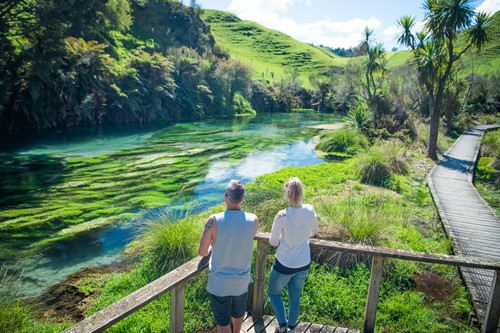 Following the meteoric rise in popularity, Blue Spring became a popular swimming destination for visitors. As a result of many people swimming (particularly around 2014-2016), the water quality, aquatic plants and visual appeal of the area suffered. 
People were also damaging the riverbanks as they entered the water which was compromising an important breeding ground for juvenile fish.
Because of this, the South Waikato District Council called for people to stop swimming in 2016. Over the last 3 years, there has been a steady recovery of the Waihou River, which is continuing to improve at the time of writing.
Whilst the river may look visually appealing to swim in, it is a chilly 11 degrees celsius year-round. This is because the spring originates from deep underground and the water hasn't come into contact with light for a very long time. 
Nonetheless, if you are still game enough to swim in Blue Spring, there is an area near the Whites Road end carpark where swimming is allowed. That being said, swimming is still discouraged by the locals and council, but no fines will be dished out if you are found swimming in the 'designated' area.
The Te Waihou Walkway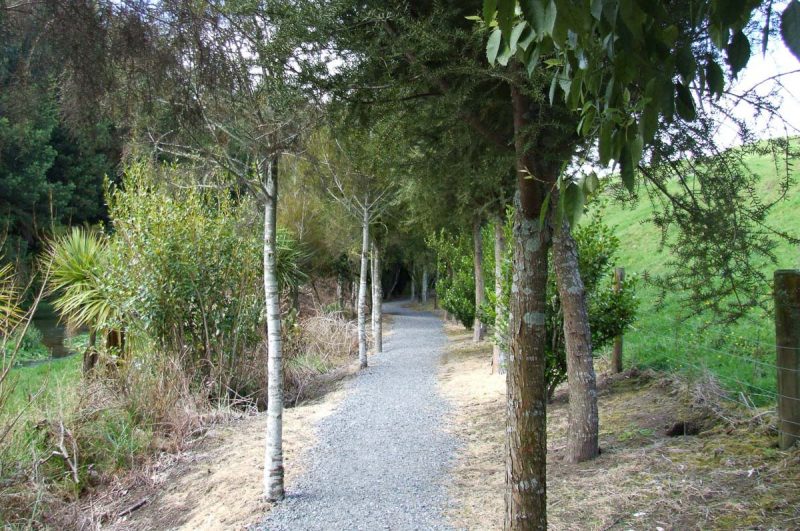 The real attraction for visitors to Blue Spring is the Te Waihou Walkway. Sitting at 4.7km long one way (with a 0.5km scenic loop), it is around a 1.5 hour leisurely stroll (3 hours return).
This formed track follows the Waihou River, and meanders through swampland, regenerating native forest and private farmland. You can start at Whites Road or Leslie Road, and make your journey from either end: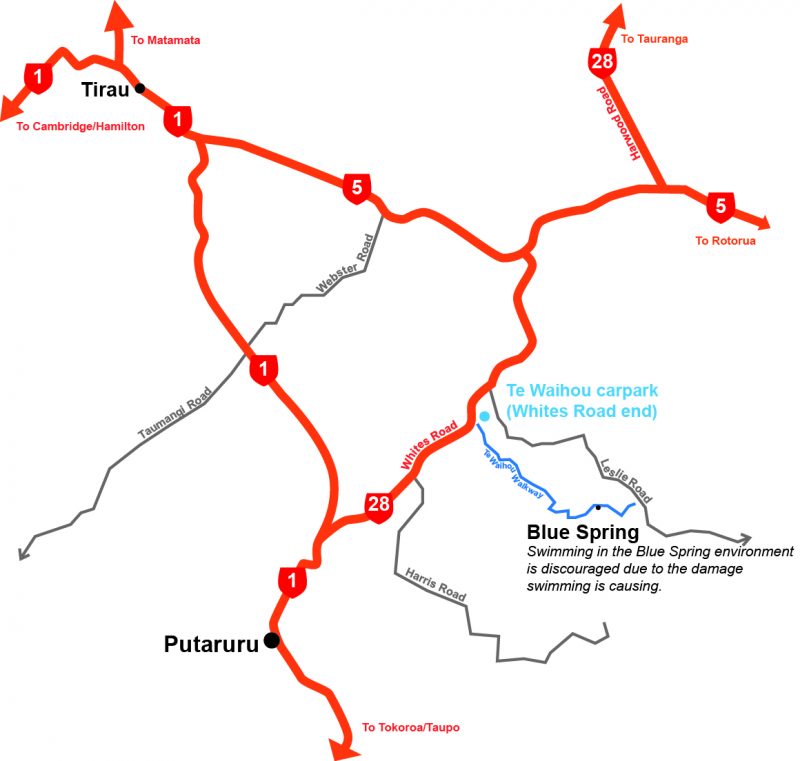 The Leslie Road carpark is closest to the spring, with just an 800m walk to get there. However, visitors are encouraged to make use of the Whites Road end and walk through the gorge. By taking the longer route, you will get the chance to experience a wider range of natural habitats.
Amenities
There are four toilets available for visitors to use – one at Whites Road, two along the track and another one beside Blue Spring. There is also a pump station which treats the water with UV light and transfers it to the Putaruru township where it is bottled and sold.
A water fountain is located next to the spring itself where you can fill your bottles with some of the world's purest water. To complement your journey, look out for four distinctive boulders with verses of a poem engraved into them.
Dust If You Must by Rose Milligan
Each of these rocks include a verse from Rose Milligan's poem, Dust If You Must, which was placed here in honour of a lady named Linda Margaret Pearce who passed away in 2003:
Dust if you must, but wouldn't it be better
To paint a picture, or write a letter,
Bake a cake, or plant a seed;
Ponder the difference between want and need?
Dust if you must, but there's not much time,
With rivers to swim, and mountains to climb;
Music to hear, and books to read;
Friends to cherish, and life to lead.
Dust if you must, but the world's out there
With the sun in your eyes, and the wind in your hair;
A flutter of snow, a shower of rain,
This day will not come around again.
Dust if you must, but bear in mind,
Old age will come, and it's not kind.
And when you go (and go you must)
You, yourself, will make more dust.
This fitting poem adds a deeper sense of meaning to the walk, a call to live your life to the fullest and an acknowledgement of the changing nature of time.
Fishing for trout

With an abundance of freshwater fish and invertebrates, this area is a popular spot for fishing.
Anglers are allowed to catch trout if they obtain a permit first. Permits can be purchased at the Putaruru iSite, local Hunting & Fishing stores or a number of other places nearby. 
If you're planning to go fishing, make sure that you understand and abide by the local regulations, as there are serious consequences for not following the rules. More information here.
Where is the Blue Springs Te Waihou Walkway and how to get there
The Blue Spring and Te Waihou Walkway are located roughly 5km out of Putaruru. If you are driving from Hidden Lake Hotel in Cambridge, it should take you 40-50 minutes – depending on the route you take. The drive time from Auckland is around two and a half hours.
Parking is available on Leslie Road and Whites Roads. Make sure to lock your car and don't leave any valuables within view.
There are no shuttle services available from Putaruru. However, if you don't have a car, tour providers such as White Cloud Travel and Raglan Scenic Tours offer guided trips to Blue Spring. These are normally bundled up with visits to other attractions such as glow worm caves.
Whilst some parts of New Zealand are great to visit on guided tours, we recommend doing this one yourself. Not only can you save money by not joining a tour, but you get to enjoy the journey at your own pace. Plus, it's cheaper to hire a car for the day and enjoy it however you like than it is to go on a tour bus with a bunch of other people.
Accessing the spring
Although the walkway is mostly flat, there is no official wheelchair access and it is not advised to bring prams. If you use a mobility scooter to get around, you can request a key and permission to enter through the gates by calling the council on 07 885 0340.
When you're at the spring, it's also important to note that the following things are prohibited:
No dogs allowed – they can be intimidating towards animals on the neighboring farms and damaging to plant life if they enter the water.

No bikes (that includes both motorbikes and bicycles).

No vehicles on the track (if you see one here, it will either be from a neighboring farm or a council truck for maintaining the pump station).

No fires or nakes flames.

No camping.
When is the best time to visit Blue Spring and the Te Waihou Walkway?
Being a spring-fed river, the waterway is suitable to visit throughout the year. However, the weather is often best during the summer months (December – February).
Whilst the weather may be best at this time of year, it is also our peak tourism season, and Blue Spring gets overrun with visitors around December to January. 
Note: peak tourism season generally lasts between October and April.
During the Autumn and Winter months, the weather may not be as pleasant, but there are fewer visitors and the walkway becomes more tranquil.
In recent years, we have had late summers which tend to result in warm Autumn climates. If this weather pattern persists, you may be better off visiting around March/April in the future.
During the day, sunrise and sunset tend to be the quietest times to visit Blue Spring, and this is also when you get the best lighting for photography. By visiting at the beginning or end of the day, you have a chance to find a special spot of paradise, free from other voices (if you're lucky!).
Make it a day trip!
Walking the entire Te Waihou Walkway takes around 3 hours (return) at a leisurely pace. Why not combine this with a visit to another local attraction and make it into a fantastic day trip? There are plenty of other activities within a short driving distance, such as:
Boutique art galleries and corrugated iron statues in Tirau.

The mosaic walks in Putaruru.

Hobbiton movie set for Lord of The Rings Fans.

Arapuni swing bridge.

Lake Rotorua geysers, Maori village and hot pools.
Where is your next adventure going to be?
Here in Aotearoa (New Zealand), we are blessed with stunning scenery and diverse natural attractions. Whether you are a DIY photography enthusiast, curious explorer or just want a bit of time to relax in pristine surroundings, there is something for everyone here.
In the same way that nature inspires so many people to visit the Waikato each year, it is the natural environment that motivated us to create a rustic and natural, contemporary place to stay – Hidden Lake Hotel. We are based near the shores of Lake Koutu in Cambridge. If you wish to indulge in a luxuriously natural accommodation experience, contact us today to reserve your spot!