Your Ultimate Guide to Visiting Hobbiton
"In a hole in the ground there lived a hobbit. Not a nasty, dirty, wet hole, filled with the ends of worms and an oozy smell, nor yet a dry, bare, sandy hole with nothing in it to sit down on or to eat: it was a hobbit-hole, and that means comfort." 
Nestled in an idyllic location on a sheep farm near Matamata, the film set of Hobbiton takes its pride of place. People visit from far and wide to marvel at the beauty that takes after J.R.R Tolkien's epic series of novels (Lord of the Rings and The Hobbit).
Renowned film director, Sir Peter Jackson discovered this hidden slice of paradise in 1998 when his team were searching the area for suitable locations to use in Lord of the Rings. When they came across the Alexander farm (where Hobbiton is located), Jackson remarked that the area "was like a slice of ancient England", and it was not long before preparations began to get Hobbiton ready for the big screen.
It is true that Hobbiton attracts diehard Lord of the Rings fans from all over the world (this phenomenon is known as Tolkien Tourism). However, a large proportion of people that come here are simply interested in experiencing something different – a unique take on rural New Zealand.
If you're keen to be transported back to a bygone era of simplicity and tranquility, this is the place for you. Our ultimate guide to Hobbiton is here to help answer all of your questions about the majestic space, and shine an insightful light on what to expect.
Getting there
The Hobbiton Movie Set is located roughly 16km away from Matamata, in a quiet farming area known as Hinuera. Here is a rough guideline of how long it should take you to reach Hobbiton from various places around the North Island:
2 – 2.5 hours from Auckland Central (depending on traffic).

30 minutes from Cambridge.

55 minutes from Hamilton.

45 minutes from Tauranga.

1 hour from Rotorua.

1.5 hours from Waitomo.

1.5 hours from Taupo.

6.5 hours from Wellington.
Where is Hobbiton?
Hobbiton is located at 501 Buckland Road, Hinuera, 3472. You can purchase tickets on-site at The Shire's Rest. They are the same price if you book them here or in Matamata.
How to get from Auckland to Hobbiton
There are a couple of routes that you can take to reach Hobbiton. Start by heading south on State Highway 1, past Pokeno. From here, you can either take the exit onto State Highway 2 towards Coromandel, or head further south until you reach the Tahuna exit.
The first exit towards Coromandel will take you over the Hauraki Plains and down through a number of farming villages along the way. If you take this route, it's important to note that there is a 90km/hour speed limit along a significant proportion of State Highway 2.
We recommend taking the Tahuna exit and following this road past a lake and through beautiful rolling pastures. Not only is it more scenic, but there is normally less traffic, making the journey much more enjoyable.
Once you pass through Tahuna township, take the first left onto Paeroa-Tahuna Road, then turn right at the next roundabout. From here, follow the road until you reach Matamata.
Getting from Matamata to Hobbiton
There are a few turnoffs that you need to take to get from Matamata to Hobbiton. Whilst it is easiest to find your way using a GPS, here is a brief run-down of where to go:
Follow State Highway 27 out of Matamata for roughly 6km.

Turn right onto Hinuera Road. Follow this road (which changes into Hopkins Road) for around 4km.

Turn right onto Puketutu Road and follow this road for 1.3km.

Turn left onto Buckland Road.

Drive up Buckland Road for another 5km and you will arrive at the Hobbiton Movie Set.
Tour providers and transport options
There are other ways to reach Hobbiton if you don't have your own form of transport. In particular, these are:
Guided tours with transportation included.

Public buses to Matamata.
Guided tours with transportation included:
Here are a range and places to search for the right tour package and options to choose from:
This resource

on the official Hobbiton Tours website lists their recommended hobbiton tour providers from Auckland, Tauranga and Hamilton. In particular, the companies offering Hobbiton tours from Auckland are:

Great Sights

,

Bush and Beach

,

InterCity

,

FlexiToursNZ

,

Travel Headfirst

,

TIME Unlimited Tours

,

Auckland and Beyond Tours

,

Cheeky Kiwi Tours

and

Fly My Sky

.

Kiwiana Tours

departs from Auckland at 8am and returns at 6pm. For a total price of $150NZD per person, you are provided with transport, a guided tour of Hobbiton and a visit to the Hamilton Gardens.

Auckland Scenic Tours

offers day trips from Auckland CBD for $199NZD per adult and $150NZD per child. These tours, which depart at 6:30am and return at 1:30pm include entry into Hobbiton and a visit to the Taupiri Māori burial ground on the way back.
Public buses to Matamata
If you're planning to visit Matamata as part of a longer journey, and aren't in a hurry to reach your next destination, a one-way bus ticket might be a more suitable option. 
InterCity is a nationwide bus company that specializes in providing transport to and from most towns and cities throughout New Zealand. This guide covers everything you need to know about travelling via bus in New Zealand.
Getting to Hobbiton is easy once you reach Matamata. Simply visit the i-Site at the northern end of town (it looks like a building from Lord of the Rings – you can't miss it), and purchase your tickets. Another bus will take you the rest of the way from here.
What to expect
The Hobbiton Movie Set is situated on a 12 acre plot of land which is located within the 1200 acre Alexander family farm. Once you make your way here, the first thing you'll notice is The Shire's Rest. 
This converted woolshed serves as a ticketing centre, store, café and garden bar. Tours begin and end here. However, the actual movie set is located down a gravel driveway on the other side of the road.
The Tour
Whilst it may be tempting to explore Hobbiton at your own pace, all visitors must be accompanied by a tour guide. This is to ensure that you get the proper experience, and discover all the fascinating insights that makes hobbiton special. It is also a particularly busy place, which would become unmanageable if people were allowed to wander around on their own.
"You will be fully guided around the 12 acre set; past Hobbit Holes™, the Mill and into the world-famous Green Dragon™ Inn, where you will be presented with a complimentary, exclusive Hobbit™ Southfarthing™ beverage to conclude your own Middle-earth™ adventure."
How long is the Hobbiton tour?
It takes 2 hours to be guided around the Hobbiton movie set. Throughout this experience, your guide will share insights about how the film set was constructed and used in the movies, the history of Hobbiton and other interesting things to note as you stroll around the enchanting location.
"The hobbit holes on site have been designed and built to one of three different scales. In addition to the smallest ones built to the correct size (hobbits are smaller than humans), some are built to a larger scale to make the hobbit actors appear smaller, and some have been constructed in a "dwarf" scale for scenes containing dwarves. Apart from a few exceptions, the colour of the front door indicates the scale, for example hobbit holes with a blue door are built to the correct scale for humans."
The tour ends at the Green Dragon Inn, where you will be served a complimentary beverage that is exclusive to the Hobbiton Movie Set and can only be found here.
How much does it cost to visit Hobbiton?
At the time of writing, the cost of admission was $84NZD for adults (for those 17 years and over), and $42NZD for youth passes. Children 8 years and under are allowed to enter for free with a paying adult. From the 1st April 2020 onwards, prices will increase to $89NZD for adults and $44NZD for youth.
These prices apply if you book at the Matamata i-Site (which includes a return bus fare) or if you arrive directly at The Shire's Rest. 
Tours departing from Auckland range from $150-400NZD depending on whether you are taking a bus or flight, and the other attractions that you visit along the way. If you are departing from Rotorua, add another $35NZD to the standard entrance price for the cost of the return bus fare.
Before booking your tickets, it's always worth searching "promo code Hobbiton" into Google, as tour providers occasionally promote deals and discount packages to fill their spare capacity.
Events and banquets
Evening Banquet Tours are held four times every week. During these immersive experiences, guests are shown around the film set at dusk, and taken to the Green Dragon Inn, where they are treated to a banquet feast fit for a Hobbit. 
Pre-booking is essential for Evening Banquet Tours, as numbers are limited. They cost $195NZD per adult, $152.50NZD for youth (9-17 years of age) and $100NZD for children.
Throughout the year, the team at Hobbiton organize a range of spectacular events for various occasions such as the International Hobbit Day, Summer Harvest Festival and more.
Perhaps you would prefer to have the space all to yourself? Private tours can be arranged for a more intimate experience, and if you would like to host your function or wedding here, Hobbiton has a range of offerings that can cater for crowds anywhere from 30 to 1000 people.
Why not get a package?
There are a range of package tours that include Hobbiton as a main attraction, and take guests to other destinations around the Waikato. Here are a few options:
Or perhaps you already have your own form of transport? If so, Hobbiton is a great place to stop along a longer journey throughout the surrounding Waikato region. Here are some of our favourite attractions within a comfortable driving distance:
Blue Spring and the Te Waihou Walkway

– here, you will find a pristine turquoise river that is fed from an aquifer which supplies almost 70% of New Zealand's bottled water.

The Pinnacles

– this beautiful mountain climb starts at the foothills of the Coromandel Peninsula and ascends to reach a summit with remarkable views of the surrounding forest and mountain ranges.

Rotorua – geothermal delights, stinky smells and friendly faces. This popular small city is brimming with hot springs, geysers, lakes and adventure attractions like the

Zorb

.

Taupō – otherwise known as the great lake, Taupō was formed as a result of one of the largest volcanic eruptions ever recorded. Here, you will find a beautiful lake that is awe inspiring, with plenty of outdoor activities in the surrounding area.

Tongariro Crossing – if you're a diehard Lord of the Rings fan, why not continue the adventure and embark on an adventure to see Mount Doom (known locally as Mount Ngauruhoe).
Tips for visiting Hobbiton
Hobbiton is one of those places that's packed with details and fascinating exhibits. As with any popular attraction, the better prepared you are, the more you'll get out of it. Here are our top tips for getting the most out of Hobbiton:
1. Book your tickets in advance
During the peak season, more than 3000 people visit Hobbiton every day! 
Tickets often sell out fast, especially for the more exclusive events such as the Evening Banquet Tours. To guarantee your spot on the day(s) that you're in the area, make sure to book well ahead of time.
2. Be prepared for crowds
The Hobbiton Movie Set is New Zealand's third largest tourist destination. As a result, it gets quite busy. If you decide to visit during the winter season, it may be a bit quieter. However, visitors love Hobbiton, and crowds are normal (up to 3000 people visit every day at the busiest times of the year). 
3. Prepare for every kind of weather
If the weather looks sunny, that doesn't necessarily mean that it will remain that way all day. Just like many other parts of New Zealand, the weather can change quickly here. 
4. Look out for the little details
Peter Jackson and his crew are renowned for their attention to detail. From a picnic lunch setup on the wharf to pots of honey outside the beekeeper's house, Hobbiton has been kitted out with all the minor details that make it feel like home. When Martin Freeman (Bilbo Baggins) visited the site, he remarked that it "just looked like a place where people lived and where people worked".
5. Have a full camera battery
There's nothing worse than arriving at a picturesque destination only to realize that you cannot take photos (especially when you have paid good money to go). Remember to charge your camera and phone batteries the night before, as you'll want to take as many snaps of this place as possible!
6. Book the Evening Banquet Tour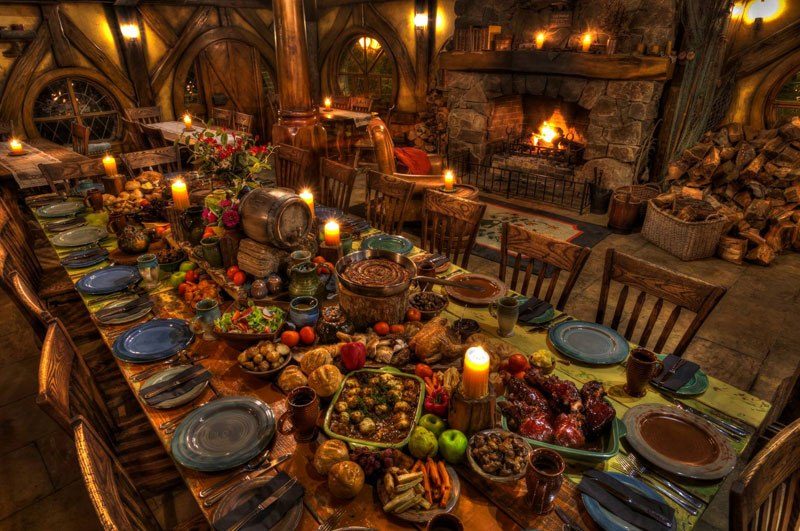 These events, which only operate four times per week include a sunset tour of Hobbiton followed by a decadent multi-course hobbit inspired feast at the Green Dragon Inn. If you're keen to get a real taste of the hobbit lifestyle, this experience is not to be missed!
Fun Facts about Hobbiton
The journey of Hobbiton has been one of epic proportions. What started as a tranquil slice of paradise on a humble sheep farm has transformed into one of New Zealand's premier tourist destinations. Here are five fun facts about Hobbiton that shine a light on different parts of Hobbiton:
1. Hobbiton is the only intact movie set in New Zealand
When movies are filmed in the New Zealand outdoors, there are laws that require any sets or props to be removed afterwards in order to return the environment back to its natural state.
The first version of Hobbiton was constructed from materials that weren't made to last (such as untreated timber, plywood and polystyrene foam). After filming Lord of the Rings, they started dismantling the entire film set.
"Believe it or not, Hobbiton was almost all but destroyed. Because of bad weather, the few remaining hobbit holes could not be torn down until the area dried up for heavy machinery to get back into the sheep field. While the family that owned the farm was waiting, they had curious neighbors and friends drop in to view what remained of the Shire. Word spread like wildfire, and before you could blink an eye, contract revisions were made and Hobbiton was restored to be a permanent tour location for those who wished to come visit the Shire."
2. Looking after Hobbiton requires a large team!
Whilst the enchanting surrounds of Hobbiton may look like a work of magic, it actually takes a significant amount of manpower (and womanpower) to keep it looking beautiful and running smoothly.
The movie set employs over 50 permanent staff, which includes 5 gardeners during winter and 7-8 gardeners in the summertime. In peak periods, up to 180 people can be working for Hobbiton on any given day!
It has been estimated that this attraction brings up to $78 million per year to the Matamata-Piako district, so it's no wonder why they need such a large workforce to keep on top of things.
3. The famous oak tree was transported here to keep with the setting of the book
"Since there was not one at the perfect location on site and in order to keep with the setting in the book, the oak tree supposed to be overlooking Bag End had to be cut down and brought in from near Matamata. Each branch was numbered and chopped, then transported and bolted together on top of Bag End (weighing 26 tonne). Artificial leaves were imported from Taiwan and individually wired onto the dead tree to look as natural as possible."
This is another testament to the importance that Sir Peter Jackson places on the little details, and it contributes to the overall feel that you get when you come to Hobbiton.
4. Most of the scenes depicting the inside of Hobbit Holes were filmed at a studio in Wellington
There are a couple of Hobbit Holes that you can enter. However, most of the scenes that included indoor shots of Hobbit Holes were filmed off-site. Despite being designed for the needs of the film crew, Hobbiton is still an enchanting location with lots to see and do!
5. They take sustainability seriously
"Our Going Green initiative is an integral part of our corporate responsibility and we believe it is extremely important to make the effort to minimize our impact on New Zealand's precious environment. Our aim is to become as self-sufficient and sustainable as reasonably practicable. Our plan is to utilize our surrounding area and farming roots with a number of further steps to be taken over the next few years. We look forward to becoming even more environmentally friendly in the future and taking our visitors on this journey with us."
Russell Alexander, Hobbiton Movie Set CEO
With such a large number of visitors every year, it is easy to create unnecessary waste and pollution if sustainability isn't prioritized. Being such a prominent tourism provider, there are lots of eyes on the team at Hobbiton to ensure that they do the right thing when it comes to looking after the environment.
Their commitment to sustainability includes the following initiatives and measures:
They have planted

almost 3000 native seedlings

around the movie set and surrounding farmland to restore native biodiversity. Most of these trees have been planted along riparian margins (land on the edges of waterways) to help improve water quality, reduce erosion and control sediment.

A wide range of different native plants are selected to attract and nourish bird life, and the gardens at Hobbiton provide excellent conditions for supporting native pollinators.

They monitor and manage pest animals such as rats through a proactive trapping programme.

Compostable packaging was introduced in 2017 and now prevents 80,000 cups from heading to landfills each year.

Packaging, food waste and green waste produced on-site are turned into compost and used to keep the gardens thriving.

"All non-compostable food packaging has been replaced by carefully-sourced plant-based alternatives made of materials such as bamboo fibre, paper, and Bioplastic made from Polylactic Acid (PLA). This material has a carbon footprint of up to 75% less than traditional packaging materials."

–

Source

The waste that is generated by visitors on-site is sorted by hand and separated into compostable, recyclable and general waste. As a result of streamlining their waste management processes, they prevented 50 tonnes of refuse from going to landfill in the first 12 months alone!

Hobbiton has a strict product sourcing policy that avoids buying consumables which aren't compostable or recyclable and favours locally sourced goods to reduce packaging and transport.

They support local community initiatives where possible, and staff are encouraged to volunteer at clean-up events, tree plantings and more.
History of the movie set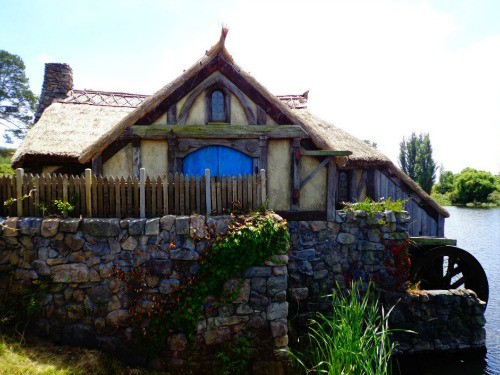 Before this property had anything to do with the movie business, it was a sheep and beef farm (it still is, with roughly 13,000 sheep and 300 angus beef cattle being reared at any given time). In 1978, the Alexander family moved to the 1200 acre property to practise farming.
"When Peter Jackson began to look for suitable locations for The Lord of the Rings film series, he first saw the Alexander Farm during an aerial search in 1998 and concluded that the area was "like a slice of ancient England"."
The story goes that they landed the helicopter, and the location scout walked up to the house to inquire about the possibility of using their farm in a movie. Mr. Alexander told the scout that the rugby was on, and to come back later.
After suitable negotiations, they reached an agreement, and work began in 1999 to transform part of the farm into the movie set for the first series of films. The New Zealand Army brought in heavy machinery to build a 1.5km road, temporary water and sewerage services, and catering was arranged. The movie set was initially constructed with 37 doors that represented Hobbit Holes.
"I knew Hobbiton needed to be warm, comfortable and feel lived in. By letting the weeds grow through the cracks and establishing hedges and little gardens a year before filming, we ended up with an incredibly real place, not just a film set."
They went to great lengths during the filming of Lord of the Rings to keep the location secret. However, once word spread about the farm, people began flocking here. Guided tours began in 2002, and continue to be provided to this day.
When Peter Jackson and his team returned in 2010 to film The Hobbit, they agreed to rebuild the set from permanent materials and leave it there for use as a premier tourist attraction.
More Hobbit Holes were added during the filming of the second series, and there are now 44 holes on-site. However, you can only enter a few of them (the rest are just facades).
In 2012, the Green Dragon Inn was built and the set welcomed its 500,000th visitor in 2013 (they now receive upwards of 500,000 visitors every year). Evening events commenced in 2014.
Fast forward to today, and Hobbiton is now a critical part of New Zealand's tourism profile. Preparations are in place to develop the infrastructure required to host 650,000 visitors per year. They are currently considering ways to establish camping and accommodation facilities.
With visitor numbers constantly growing, and tourism being a major driver of New Zealand's economy, it is likely that Hobbiton will remain popular for many years to come!
Come stay with us
If earth-inspired, sustainable accommodation is your thing, then you'll love our boutique hotel in the heart of Cambridge. Hidden Lake Hotel is an eco-friendly accommodation provider that embodies the natural feel of our surroundings.
Our lakeside property blends the best of interior design with the ultimate location for a luxury getaway. With floor to ceiling glass, black steel and rooms that are encased in timber, our designer interiors are made to fit the feel of the surrounding environment. We combine these beautiful design elements with a down-to-earth Kiwi atmosphere to provide the ultimate hospitality experience during your time in the Waikato.
Better yet, we are less than 30 minutes drive from Hobbiton, making it the perfect place to stay while you visit the home of Hobbits. Click here to book directly with us and get the best deal.