Hidden Gems – The Church Grown From Trees
"Many people see the face of God in the beauty of nature, but few have ever taken this to the extent of Barry Cox, the infinitely patient creator of New Zealand's Tree Church."
Tree Church is a 3 acre (1.2 hectare) selection of exquisite gardens and a stunning church made from trees – that Barry Cox created in the small Waikato township of Ohaupo.
Located at 119 West Road, this hidden gem is a short 20 minute drive from Hidden Lake Hotel in Cambridge – making it a great attraction to visit during your stay with us.
In this article, we take a closer look at:
The story of Tree Church and the surrounding gardens – How Barry Cox brought his masterpiece to life.
The church – what you'll see here and why it's so unique.
The garden – and some of the species that you'll find here.
Visiting the church – when to visit, how to book and the rules while you're here.
"Amazing tree church set in a wonderful garden with a labyrinth to wander through. Awesome cottage garden and vegetable patch. Lovely pond full of water lilies and weeping willow at one end. Great place to take a picnic and enjoy the serenity of the place."
The story of Tree Church and the surrounding gardens – how Barry Cox brought his masterpiece to life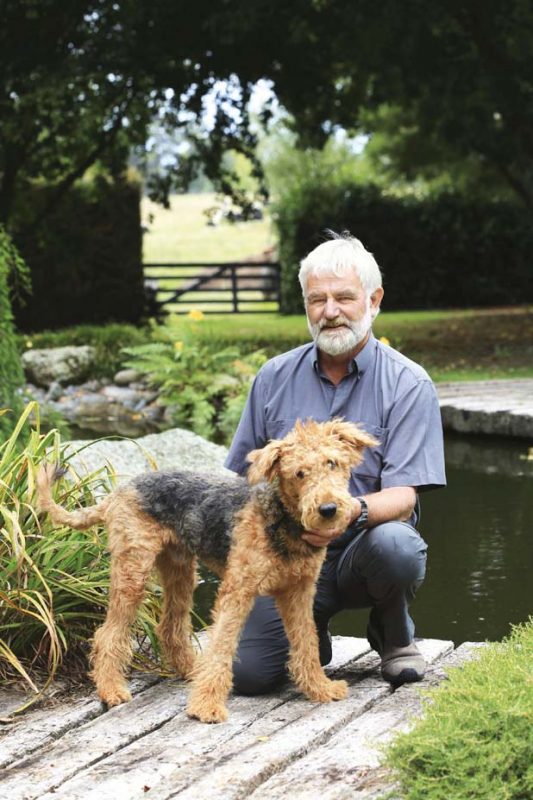 Ever since he was a child, Barry had a passion for the architecture and ceremony of churches.
"Before the age of 10 (too young to understand the criteria required for the top job at the Vatican), Barry wanted to be the Pope. Instead, he settled for the revered position of head altar boy in his home town of Shannon, in Horowhenua."
As he grew older, many years were spent travelling around New Zealand, America and Europe studying churches – the height and pitches of roofs, the proportions and angles of the construction, and what makes different churches unique.
His passion for trees and gardening came to life when he owned a dairy farm in the Waikato – on this 90 hectare plot, he planted more than 4000 trees.
When he finally settled on the patch of land where the Tree Church now stands, he knew that it was the right spot. With fertile and free draining soil, an ideal climate, a handy location and majestic views of Mount Pirongia in the distance, it was clear that it would be suitable for growing a spectacular garden with various specimen trees dotted throughout.
The business that made these gardens possible
"Connecting his love of trees with a desire for an income, Barry started Treelocations, a business that moves large trees (up to 6m tall) using a specially designed tree spade – a huge machine that resembles an apple corer. Mounted on the back of a truck, it works by digging down and under the tree to scoop up cleanly the whole plant, including its vast root ball."
By using the tree spade, he was able to transplant mature trees in the garden, which made it look like the garden had been growing for 20 years – instead of just a few.
Although Barry has now moved on from Treelocations, it is this business that allowed him to transform the Tree Church and surrounding flora into what they are today. Here's a video that demonstrates how a tree spade works.
'That space needs a church'
After four years of cultivating the gardens, Barry had a great idea – to grow a church from trees. In doing so, he would combine his passions for architecture, churches and gardening into one fulfilling project that would take many years to reach a final stage of maturity.
"I walked out my back door one day and thought, 'That space needs a church' – and so it began. I cleared the area in April 2011 and made the iron frame, drawing on all the research I had done over the years of studying churches. I wanted the roof and the walls to be distinctly different, to highlight the proportions, just like masonry churches,"
Equipped with a workshop of tools, knowledge about different tree species and an unrivalled depth of understanding about church architecture, Barry went to work creating the Tree Church that stands today.
The world discovers his masterpiece
When Barry purchased the land and started bringing his vision to life, it was designed to be a secluded retreat from the world – a place of tranquility where Barry could go to leave the bustle of modern life behind.
However, it became quite popular with friends, family and fellow gardeners once they found out about it. After receiving a great deal of encouragement, he finally decided to open the Tree Church and its grounds to the public in January 2015.
"It wasn't his original plan – he just wanted to grow a Tree Church for his own enjoyment, and realise his study of ecclesiastical architecture –  but when his nephew asked if he could get married in the church, Barry couldn't say no."
The Church – what you'll see here and why it's so unique
"The effort and time it takes to create even the most simple of structures by pleaching trees together is no mean feat. So you would be hard-pressed to find another structure in the world in the same league as the one Barry Cox has created in this corner of the Waikato. Some "cathedrals" have been formed in Italy and the UK by planting trees close together, but none have the structural complexity of Barry's Tree Church."
Tree Church is a blend of human engineering, combined with the careful and patient cultivation of specific trees to grow into what is now an elaborate structure.
Barry established the foundations for the church by welding together a metal frame for the trees to grow around. After a number of years, the branches of the roof will strengthen to become the framing.
The roof canopy consists of a plant called alnus glutinosa 'laciniata' (otherwise known as cut-leaf alder). As a flexible and easy to train plant, cut-leaf alder is perfect for the roof canopy, as the foliage lets enough light through to ensure that the grass growing within the church is able to thrive.
The walls of the church are an Australian tea tree called 'copper sheen' (leptospermum macrocarpum). This shrub grows thick and textured foliage with a colour that resembles stone. To keep it looking lush, Barry trims the walls every 6 weeks.
A 'Dublin Bay' rambling rose weaves its way around the top of the ceiling, adding a tasteful touch of colour to the church when it's in bloom. This rose was selected for the romantic colour that it exudes, along with its long flowering season (which lasts from October until as late as June).
Once you're inside the church, you'll find rows of seating that hold up to 100 people, and a marble altar at the very end. This altar holds special significance to Barry, as it originated from his family's church in Shannon where he was the head altar boy. The marble that it's made from was sourced from Lake Como in Italy, which is where his family came from.
Wrought iron was used to fashion the gates and window frames – providing a rustic feel to the otherwise natural looking church.
A hedge of camellia 'black tie' surrounds the building, with acer platanoides 'globosum' trees that sport bushy tops rising out of the shrubs. By surrounding the building with a tidy hedge, it provides a clean canvas to really place emphasis on the church. Camellia was selected because it's a dense hedge that doesn't require much maintenance.
For a natural structure that was only created 9 years ago, the Tree Church is certainly a marvel to behold!
The garden – a stunning and diverse range of species from all over the world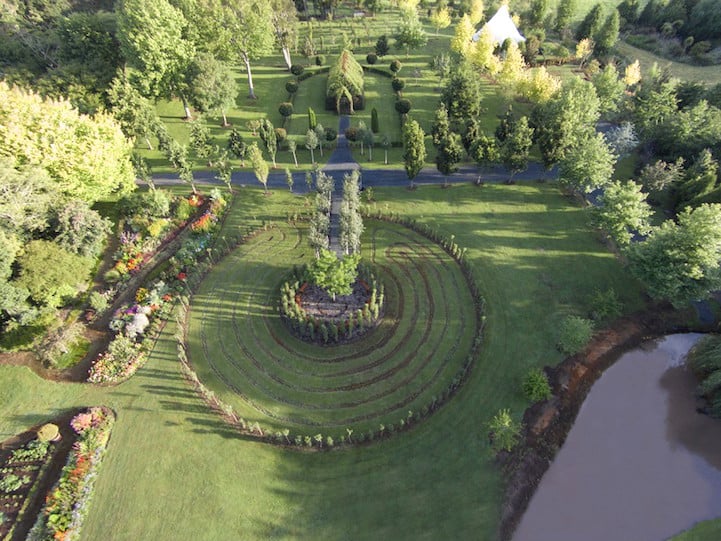 "The gardens were looking lovely with new growth on all the trees, azalea mollis in full flower looking magnificent water lilies coming into flower, and the perennial garden was starting to look good too, with irises just starting to flower. A very peaceful spot and I can imagine a wonderful place for weddings with many suitable spots for wedding photos."
Throughout Barry's endeavour as a tree relocator, he gathered a range of different plants to create this mature garden masterpiece. Although the diverse range of species are one thing, the real beauty is in the detail you'll find here.
Thanks to the tree spade, Barry was able to move his plants around multiple times before they reached their final homes – to ensure that they were positioned perfectly. When you walk through the gardens, you will find a selection of trees that include oaks, maples, alders, ginkgos, beech, poplars, taxodium and nyssa.
"Across the walkway from the church a double-lined avenue of Betula utilis var. jacquemontii or Himalayan birch, with their snowy-white, lacquered bark, leads to a labyrinth, the design of which is based on the walls of the ancient city Jericho in 460BC."
With such an elaborate display of specimen trees that fit into a much larger architecture, it's no wonder why people flock here to experience Barry's creation. If you're planning to come here for a visit, why not bring a picnic and enjoy a cup of tea under a beautiful tree?
Visiting the church – when to visit, how to book and the rules while you're here
The Tree Church and gardens were officially opened for the public to view in 2015. They open every Sunday from 10am – 4pm (until 5th April, 2020). Admission fees for the public are $15 per person, and children under the age of 12 are now allowed to enter without prior permission.
If you're thinking of hosting a wedding or an event here, the venue is available for hire. For more information on pricing and booking your event, check out the Tree Church website. The gardens are also available for photoshoots.
Things to know when visiting the Tree Church
After putting so much work into this garden, the last thing Barry wants to do is have it damaged by visitors. To ensure that the facilities are looked after by everyone, here are some other things to keep in mind:
No smoking or dogs are allowed on the grounds.
You are welcome to bring a picnic, but no food is allowed in the church.
Food isn't sold on the grounds, so make sure to bring some tasty snacks with you!
If you're planning to visit the church after 5th April, 2020, it's worth contacting Barry first to find out if it's open.
An idyllic retreat in the heart of the Waikato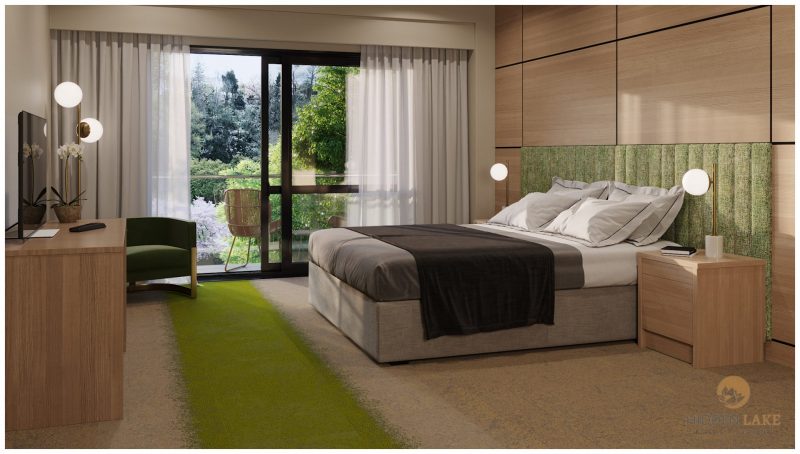 Tree Church is one of the many hidden gems that you'll find in the beautiful region that we call home. For more guides on stunning destinations and things to do in the Waikato, check out our blog.
And while you're here, why not visit our secluded hotel in the heart of Cambridge? Nestled on the shores of Lake Te Koutu, Hidden Lake Hotel is a rustic retreat that exudes comfort and sustainability.