Chasing dreams of a diverse coffee industry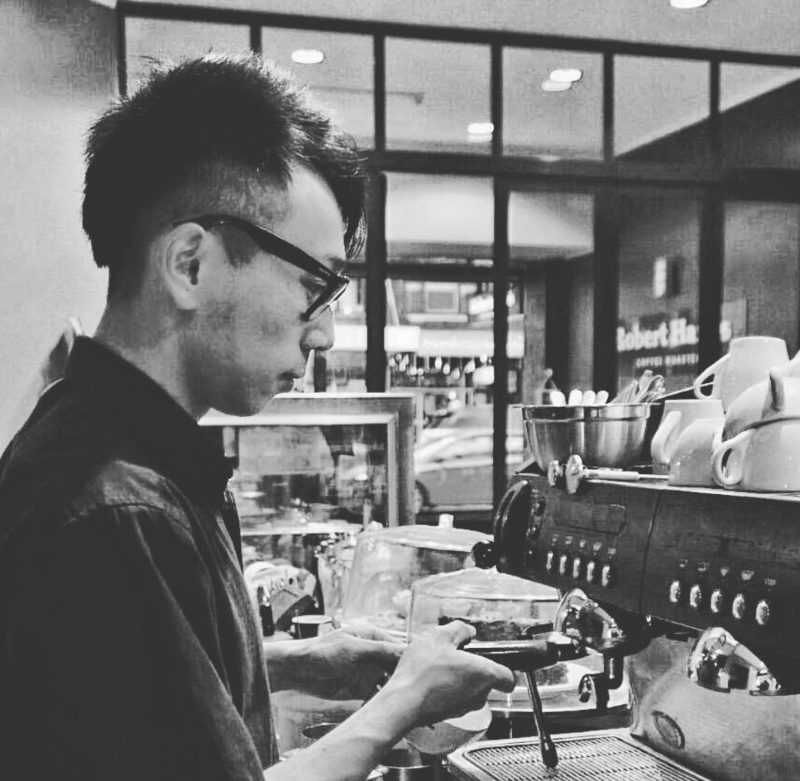 Justin Leung's journey
As a long time mentor and trainer in hospitality, Glenda knows the importance of developing and empowering students. Here we feature the first of our 'Chasing Dreams' series on the journey Glenda's past students have taken to career and business success.
"Glenda is one of my 'masters' since this journey began"
Justin Leung was born and raised in Hong Kong. He travelled to New Zealand to pursue "education and life experience", worked his way through secondary school to University, and chose hospitality as his preferred industry.
Like so many successful people, Justin's pathway in F&B began on the bottom rung, working service in cafes, restaurants and hotels. Practising persistence, one of the skills his 'masters' taught him, eventually led Justin to roles as Section In-Charge, Supervisor, and Head Barista. He is now a Cafe Business Consultant and Barista Instructor.
"You are actually learning the right way"
The enthusiasm and passion of Glenda's mentorship has always been in the heart and mind of Justin Leung. Glenda made boring lessons or topics into fun, practical sessions, so they were enjoyable learning experiences. Students learnt the right way to perform a task in a transferable manner that could easily be applied in the workplace. Sometimes Glenda presented students with a visual learning experience, especially for topics they were unfamiliar with. This not only stuck with Justin, it influenced him to incorporate these training methods into his own Barista training sessions, so when students step behind the coffee machine they can immediately identify the correct procedures.
"You have to learn the skills from scratch"
Justin recalls that Glenda taught all her students to be well prepared and in control of every aspect of working in the F&B industry. In order to be able to perform at the highest level, you had to learn the skills from scratch. Justin listened, made copious notes on each topic, and remembered to revise these notes afterwards.
Years of learning, hands-on training and real world experience
The outcome of what Justin learnt during Glenda's tuition classes and "mind changing" human resources studies, combined with hands-on training and real world experience in F&B and the customer service industry, saw the years fly by. Justin recalls there were frustrations, back-to-back shifts and even thoughts of giving up during this time. However, in difficult periods he harked back to what his "masters" had taught him about the key focus of different parts of the service sector, and this pulled him through.
"My pathway is my hobby"
Justin chose F&B to work with the one thing he can't live without every day, "from dawn to dusk" – coffee. He now conducts Barista training together with service improvement programmes, himself developing and empowering students to succeed. He also introduces business owners to specialised coffee and customer focussed service skills.
"I am looking for a more diverse, multi-cultured coffee industry"
Justin wants coffee lovers to be surprised by the quality and the difference a great cup of coffee can have. He pursues the concept of "Calm, Relax, Enjoy" and instils in his students the importance of precision in coffee-making, taking the time to refine each student's learning process so they can achieve this goal and have their own impact on the coffee business.
"Glenda mentored me to become a passionate F&B person"
Justin credits Glenda with providing the positive influences that empowered him to become passionate about building better places to dine in – an all-round hotelier finding solutions, creating milestones and unique experiences for guests.
As a professional instructor he now transfers his own knowledge to train and develop potential students to become the next "Justin" success story.
Glenda Hamilton is an accomplished hospitality mentor and trainer, as well as owner and operator of Hidden Lake Hotel, Cambridge, New Zealand.
Have a question about Hidden Lake Hotel or want to make a booking enquiry? Contact us.
Follow us on Instagram to view Hidden Lake Hotel's progress